Medi-Cal's dental program will soon provide dental services to about 50 percent of California's children. Yet, the program has proven to be inadequate to meet their needs. This issue brief spotlights stories of children enrolled in Medi-Cal trying to access dental care. The brief highlights the challenges facing Medi-Cal in providing dental care to children, examines the State's efforts to address these problems, and provides an action plan to help the program serve its growing number of enrollees. 
Download the Fix Medi-Cal Dental Coverage infographic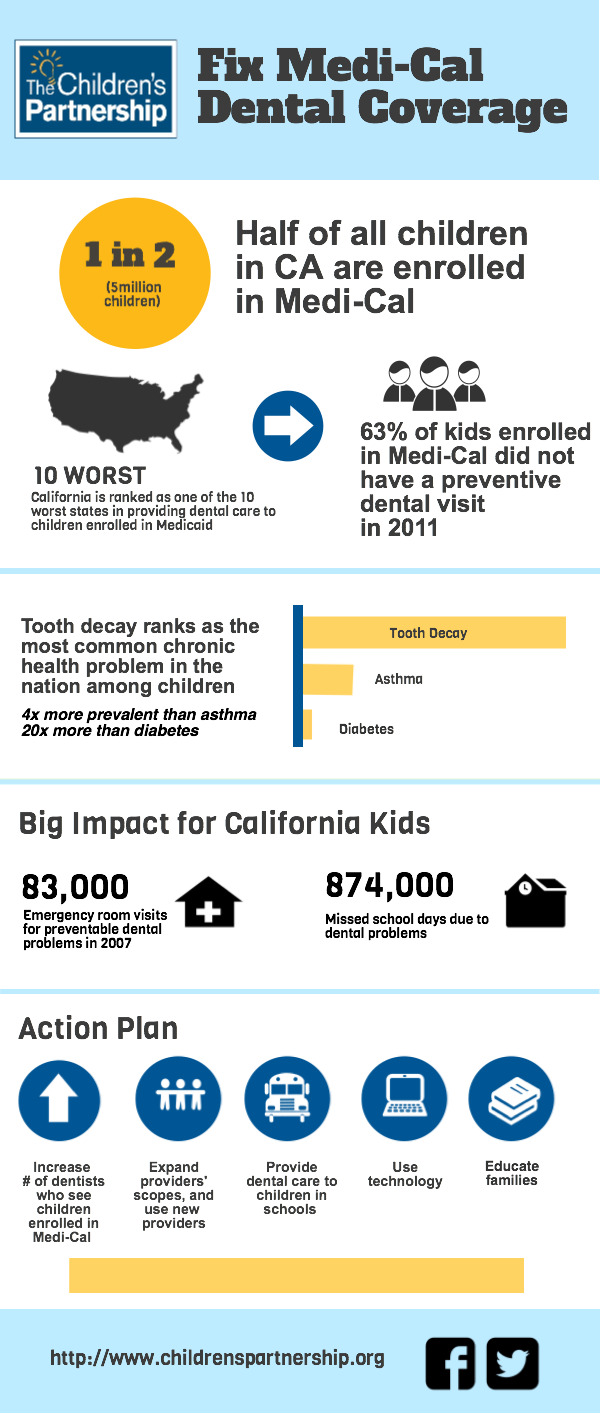 The report includes the results of a yearlong study of the $25.1 billion digital game industry and provides a focused look at the demographics of gamers, trends in social gaming and virtual goods, and the potential of cause partnerships to benefit child health and education.
Telehealth refers to the use of technology to provide health care at a distance. The important and increasing role of telehealth in the delivery of health care has been recognized for several decades. Although there are fewer reports on the use of telehealth to deliver oral health services, evidence is emerging that these technologies can enhance the ability of the oral health delivery system to reach vulnerable and underserved populations.
Just six months after the Affordable Care Act (ACA) law was signed on March 23, 2010, California children gained expanded health coverage and new protections that will ensure that more children have the health care they need to grow up healthy and ready to learn. Health care reform is already helping millions of California children and their families – and even more will benefit once the law is fully in place in 2014.
Developed by The Children's Partnership, these state fact sheets provide key data regarding technology and youth, making particular note of problem areas. Use these fact sheets to determine where your state stands and to push for improved digital opportunity for youth.  
This roadmap lays out the four design features (and practical recommendations for action within each) necessary to enroll almost 4 million Californians newly eligible for subsidized health coverage under health reform, in addition to assisting the over 8 million already receiving such coverage. While written with a specific focus on California, the information and recommendations in the report will be relevant to decision-makers in any state.
This paper provides recommendations to the California Health Benefit Exchange Board (HBEX) as it proceeds with the implementation of the SHOP program for small employers. These recommendations are aimed at ensuring that families covered through SHOP have access to and understand the best affordable care available for children. As a participant of the CA HBEX Board's Stakeholder SHOP Work Group, The Children's Partnership sees the SHOP as a critical piece of the children's coverage matrix and has identified key issues around incorporating the SHOP Program into the IT system design. Further, SHOP is critical to ensuring that all possible avenues of providing health coverage for children are maximized.
This brief provides an overview of the challenges faced by California's children and their families in obtaining necessary dental care and outlines a workforce innovation designed to bridge the supply gap between existing providers and California's most vulnerable children. This brief also provides a proposal for action, laying out a practical solution to help California's state and community leaders ensure children get the dental care they need and to make real the promise of health care reform.
The Children's Partnership has developed a guide to maximize HIT's ability to engage child and parent consumers in their own health by improving access to and use of their electronic health information. When designed with children and parents in mind, HIT can connect, inform, empower, and protect—four guide posts to effective engagement of this critical consumer segment.
Under the Patient Protection and Affordable Care Act (ACA), millions of uninsured adults and children will gain eligibility for Medicaid or health coverage through new health insurance Exchanges beginning in 2014. The law calls upon states to develop simple and streamlined processes for establishing, verifying and updating eligibility for Medicaid, the Children's Health Insurance Program and federal subsidies for Exchange coverage.
This issue brief, published in partnership with the Kaiser Commission on Medicaid and the Uninsured, examines how states can employ "express lane" principles in designing systems that use existing data held by other government agencies to help identify individuals who may be eligible for Medicaid, CHIP or subsidies for other coverage and enroll them or renew their coverage, as appropriate, under the health reform law. To do this, states will need to create linkages between the health subsidy programs and public programs such as the Supplemental Nutrition Assistance Program (SNAP)and Temporary Assistance for Needy Families (TANF), and with databases held by federal agencies such as the Social Security Administration, the Department of Homeland Security and the Internal Revenue Service.