Originally Published in First Focus: Voices for Kids.
Despite the successful implementation of the Affordable Care Act two years ago, over one million individuals remain uninsured in California simply because of their immigration status. But that number could change shortly thanks to unprecedented momentum in favor of health for all in the state. Two weeks ago, the California State Senate made history with a 28-11 vote in favor of a bill that would be the first step to ensure health coverage options to undocumented immigrant residents. With ayes from both sides of the aisle, the bill now moves on to the Assembly. And last week, the California legislative budget conference committee voted to provide $40 million to extend Medi-Cal to undocumented children. Now, the question is whether the legislative leadership will hold firm and send the bill and the budget with this funding to the Governor—and whether the Governor will sign them.
 SB 4, authored by California Senator Ricardo Lara, would allow undocumented immigrants to purchase health insurance through the state's health care marketplace (with a section 1332 waiver from the federal government) as well as provide coverage for low-income children through Medi-Cal, California's Medicaid program. Low-income adults can also qualify for Medi-Cal, but enrollment is capped based on available funds. An estimated 170,000 undocumented California children could receive comprehensive care as a result.
By offering affordable insurance options to immigrant family members, the whole family is more likely to enroll, including their citizen and lawfully present children who already qualify but are not yet enrolled in coverage. One in six kids in California has an undocumented parent locked out of health coverage, and the majority of these children are citizens. When parents get health coverage, their children are much more likely to be enrolled and to get preventive care.
More and more, leaders are recognizing that investing in the health of hardworking immigrant parents and their children has substantial long-term impacts that benefit all Californians. States already provide emergency care coverage for undocumented immigrant residents, even though preventive care and early treatment are far superior and much more cost effective. A growing body of research shows that if every single parent and child had preventive and ongoing care, we could reduce overall health care costs, avoid preventable emergency room visits, and foster more productive communities. Providing full-scope Medi-Cal coverage would cost less than Medi-Cal emergency services coverage the state is currently providing for undocumented immigrant children.
A study of local programs that extended health care to low-income children estimated that 6,324 childhood hospitalizations were prevented over a five-year period, resulting in approximately $6.7 million in savings to the health care system. Moreover, children need regular checkups to assess healthy childhood development and identify and treat problems early.
When children have health coverage, they are considerably more likely to graduate from high school and complete college. Children newly enrolled in health coverage pay closer attention in class, resulting in a 63 percent improvement in school performance. Expanding health care to undocumented immigrants truly is the remaining piece in ensuring all of our kids are healthy and ready to learn.
The recent Senate vote reflects the opinion of the vast majority of Californians across the political, geographic, and demographic spectrum—undocumented immigrant children should have access to affordable health coverage options. A majority of Californianssupport affordable health options for all low-income undocumented immigrant residents. The broad and diverse coalition of Californians—from business leaders, churches, health care providers, workers, and families across the State—will be watching and urging our policy makers to support options for the remaining uninsured. If SB 4 is enacted into law, California will continue to demonstrate its leadership in laying the foundation needed to extend health care coverage to all. We hope California finishes the job and brings health coverage to all Californians and that other states shortly follow suit. Extending coverage to all children and families is not only cost effective—it's the right thing to do.
Lessons learned from two years of the ALL IN For Health Campaign
When the education and children's health advocacy leaders in California came together two years ago to partner for student and family health, no one knew what the outcome would be. As California was preparing to roll out new health coverage options for families and individuals as part of health care reform in summer 2013, California State Superintendent of Public Instruction Tom Torlakson partnered with The Children's Partnership. Together, we called on the state's education leaders to work with child health advocates to help families connect to new health coverage options. The message was that no one knows better than teachers, school personnel, and other education leaders that healthy children make better learners.
As a result of this call to action, The Children's Partnership launched the ALL IN For Health Campaign with a simple mission: equip schools, early learning centers, and after-school programs with the tools they need to help more kids and families enroll in health coverage. At the time, California was gearing up to launch its first open enrollment period through Covered California, the state's Health Benefit Exchange, and provide more Californians with coverage through expanded Medi-Cal, California's Medicaid program. With new affordable health care options coming to families across the state, ALL IN For Health identified schools, early learning centers, and after-school sites statewide as places where thousands of families could learn about their new options and find out how to enroll in a plan that meets their needs.
This model has proven to be highly successful; over the last two years, with our partners in the education community, ALL IN For Health has delivered more than 6.5 million messages across the state informing families about health coverage options and how to enroll, and encouraging them to take action to get covered. Research has shown that consumers need to be prompted multiple times before they enroll in coverage, making ALL IN's voice an important one in the push to get more Californians covered.
In the past couple of years, we've learned some valuable lessons about what works in partnering with the school community to reach families and students with important health information. For example, we learned that partnering with well-respected leaders in the education community and offering them an easy-to-implement game plan with off-the-shelf materials is vital for getting buy-in and making sure these leaders can easily engage in outreach activities. We also learned that speaking the schools' language and tying activities to the school calendar really works in getting more families enrolled in health coverage.
Check out our Summary Report for more details on what we've learned and ideas for how you can bring a campaign like ALL IN to your community. Not convinced yet? The numbers in our infographic speak for themselves.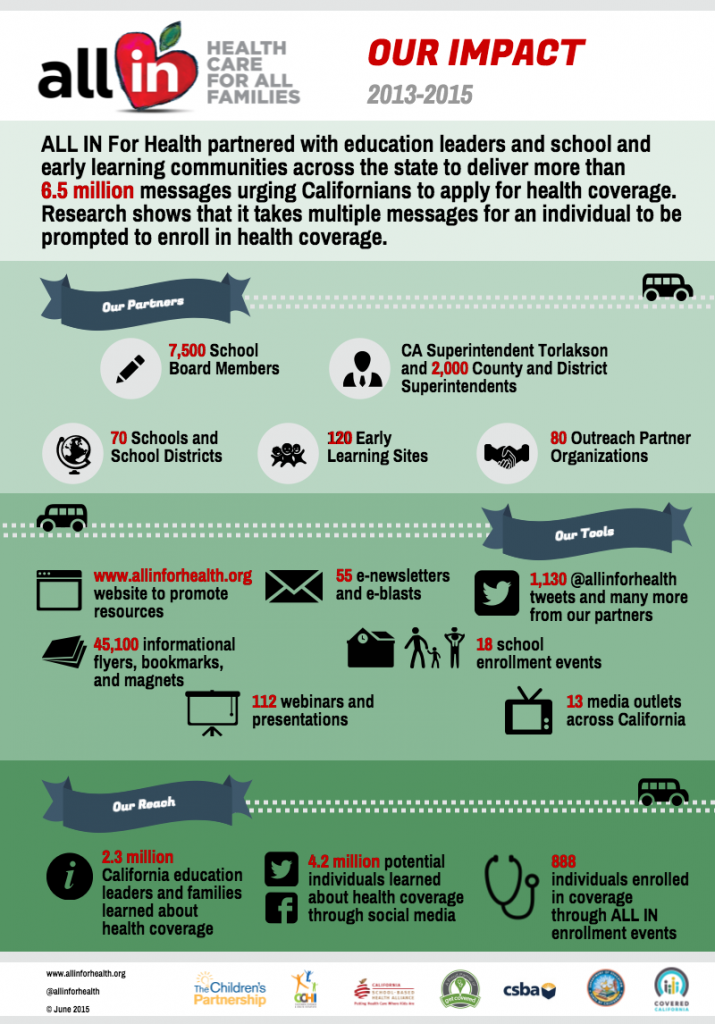 This past Monday marked the fifth anniversary of the Affordable Care Act (ACA), a significant milestone and excellent opportunity to assess the impact this historic law has had on the health of California's families and children. Our state has led the way in implementing the reforms included in the ACA, which has helped provide health coverage to more families than ever. The uninsured rate for all Californians fell by as much as 60 percent, and we can proudly say that 93 percent of kids in California are insured.
Through the state's health exchange, Covered California, the State is insuring more than1.8 million individuals, an estimated 101,000 of whom are children. The State also expanded Medi-Cal eligibility to more adults, resulting in 2.7 million additional enrollees. In addition, California provided state-funded Medi-Cal to individuals with Deferred Action for Childhood Arrivals (DACA) status. In the last two years alone, California enrollednearly 1 million young people in Medi-Cal. Along with other reforms, Medi-Cal now covers more than half of all children in the state. 
Thanks to the ACA, Californians and millions of individuals across the country benefit from an improved health care system. Those with preexisting conditions can no longer be denied coverage due to their health. The lifetime limit on health coverage has been eliminated, meaning that those with chronic conditions or in need of costly treatment will be able to continue to reap the benefits of health coverage no matter the cost. And young adults under 26 can stay on their parents' insurance, providing an important bridge as younger Americans transition to adulthood. Health coverage now works better for Californians.
While we've accomplished so much together in the last five years, our work to cover all families is not done. Many families who are eligible for coverage do not understand how to enroll; there is much work to be done in educating them about their health coverage options and helping them enroll into coverage. Additionally, certain undocumented immigrants remain ineligible for coverage through Medi-Cal or Covered California, and, as a result, an estimated 170,000 California children remain uninsured due to their immigration status.

All California children deserve a healthy start in life, and our state is stronger when everyone has access to health care, including our immigrant children and families. We hope that the current injunction against President Obama's Immigration Executive Action is lifted so that California can continue progress on this front and that the state will continue to lead the way by passing SB 4 (Health4All), which would provide affordable coverage to all Californians regardless of immigration status.
With these eligibility barriers removed and strong community education and outreach, California can make tremendous progress toward reaching our goal of providing affordable health coverage to all. With determination, we hope to soon celebrate another important milestone: 100 percent coverage for all families.
Photos below from a Affordable Care Act 5 year anniversary celebration with our partners in Los Angeles: Health Access, Planned Parenthood Los Angeles, California Partnership, Children Now, Children's Defense Fund-California, California Immigrant Policy Center, Young Invincibles, and more.